I get asked this one on a regular basis too it seems.
"What size shot do you think I should use for _________?"
My answer is always the same.
"Depends on your choke, your gauge, the area, and your proficiency."
I guess it kind of goes downhill from there because when someone doesn't even know how to select what size shot to use for... let's just use grouse and a 12 gauge for the sake of the remainder of this article. When they don't know what size to use for grouse and you start talking to them about choke selection and shot size selection and then they get all offended when you ask them to be honest about their proficiency, well it makes it hard to give them a proper answer. It's also impossible to explain the science that puts it all together if he doesn't understand the basics.
What it all boils down to is shot density, on target, at range, and your ability to put it there.
Here's the deal, shotguns, just like race cars have multiple ways to achieve the same results. Each change gives you a benefit in one area, but each change also takes something from another area. "Every action has an equal and opposite reaction." which is Newton's Third Law.
Here is your redneck physics lesson for the day: When you add more down force in the rear wing of a race car, it results in more traction on the driving wheels making the car stick to the track better in the turns. On the other hand, you get more wind resistance and more rolling resistance which make the car slower overall. What you end up with is a car that is really fast in the turns because it sticks to the track, but it is slow on the straights. The other racer took some angle out of his wing and is now faster on the straights, but has to go slower in the turns. Both drivers end up with identical lap times, but it make it easier on each driver who can then capitalize on his strengths. Next time you watch NASCAR pay attention to Kyle Busch and Greg Biffle when they get to running together. One will run off and leave the other through the turns, but by the end of the next straight the other is right back on him. Redneck physics.
The same applies to chokes and shot selection. Before we get into the heart of the matter, let's clarify some things first. Chokes are like a nozzle on your garden hose. The more it squeezes (chokes) the water, the tighter the stream of water that squirts out. There are six rather standard chokes that you can use. Full, Improved Modified, Modified, Improved Cylinder, Skeet, and Cylinder Bore. Understand that there are others, but we will just discuss these six.
A Full choke is your garden hose with the smallest stream, and a Skeet choke is the hose with the widest spray pattern. The rest are somewhere in the middle of these two. Cylinder Bore is absolutely no choke and is represented by the hose without any nozzle at all.
Now your gun's gauge is what size of water hose you are using. A 12 gauge is the big, fat, rubber hose from Lowe's and a 20 gauge is the little small plastic hose from Big Lots. There are hoses that are bigger than these and hoses that are smaller, but each hose squirts water the same distance, just less of it. Same with shotguns. The velocity of most shotguns using standard length shells is remarkably similar at around 1250 feet per second, only the amount of shot being used is different. They can't put as much shot into a .410 "gauge" shell as they can is a 10 gauge shell, but they
can
make the shot travel the same speed. (Speaking of .410, it is actually a caliber and not a gauge size. If it were a gauge it would be a 68 Gauge.)
As long as we are on the subject of gauge, gauge is determined by the number of lead balls the diameter of the bore that it would take to equal one pound. The bore of a 20 Gauge is 0.625 inches and it would take 20 lead balls that size to equal one pound. A .410 is a caliber in that point 4-1-0 is the measurement of the bore diameter. See, the .410 was originally designed back in the late 1880's as a rifle and not a shotgun. As more and more people found the usefulness of the shot cartridges loaded for the rifle it became more popular as a shotgun than as a rifle. The venerable 44-40 also had shotgun loadings during this same time.
Okay, moving on. Your ability to put shot on a target at range and your ability to manage recoil is what determines what gauge shotgun you need. For the sake of keeping it simple, we are going to presume that we are all average shooters here that are able to hit a target. Your ability to manage recoil is a different story. I have watched big dudes get pounded shooting small shotguns. I have also watched cute little ladies own a 12 gauge. It is all about technique... and that is something you will have to work on by yourself. Gauge selection all comes down to one's individual ability to preform in this two areas. Unfortunately, you can't receive shotgunning lessons via written instruction, so we'll move on.
Shot density is the pepper on the mashed potatoes... little black holes in a piece of white paper. It is the next consideration and it is simply the number of shot pellets inside a set area at a set range. This density on target is what determines the choke "sizes" and what choke you need to use. Shot density and patterning are typically done at the same time. Density is measured on a paper target four feet square with a single shot from 40 yards range that is fired from a support at a dot in the exact center of the target. Around that spot, you use a fifteen inch long string to draw a 30 inch circle. The pattern is the evenness of the shot inside that circle. A Full Choke will put 70% in it, Modified is about 60%, Skeet about 50%, Cylinder Bore about 40%. Easy enough right?
Alright, let's start mixing this up then. The range in which 65% of the shot fall into a 30 inch circle is the standard for determining the range of the choke. The maximum
effective
range is what is more important because it is determined by the number of shot in your game. So let's say that you are shooting high-brass #6 shells and that 65% of the shot from your 12 gauge hit inside that 30 inch circle using a Improved Modified choke at 40 yards and you are hunting grouse as we stated earlier. There should be enough pellets, say six or eight, in your pattern to bring that grouse down humanely. On the other hand if you are hunting doves there will probably not be enough in the pattern to do it. The pattern didn't change. The yardage didn't change. The size of the target is what changed.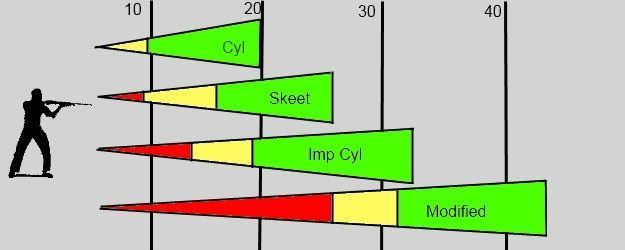 So how do we put enough shot into that dove at 40 yards? Well, we can increase the number of shot in the shell by increasing the shell length to a 3 inch magnum, but that's more recoil. We can increase the number of shot by decreasing the size of the shot to #7 shot, but then you lose energy. Or just as easily, we could simply increase the tightness of the pattern by going to the Full Choke tube, but then you have a 25 inch circle of shot. Believe me, 25 inches is pretty small at 40 yards!
Concerning shot size selection, energy retained in the shot as well as hardiness of the game is what determines the shot size needed. If you are shooting tough pheasant roosters on the wing, you want a shot that is heavy enough to carry sufficient energy to penetrate the feathers and still go through the body. Heaver shot carries more energy, however there are also less shot in the pattern. Little sissy birds like doves don't need as much energy and you can therefore use a smaller shot to get more pellets in the bird.
There are many considerations regarding types of shot to use. The advantages and disadvantages of lead compared to steel, and steel compared to bismuth has been debated at great length over the last 25 years. Be aware that migratory fowl all require nontoxic shot and also be aware of your local regulations when picking a shot type. Steel shot tends to shoot tighter patterns due to less barrel deformation. Lead carries more energy for the same size shot. You can go online and search for just a second or two and find thousands of debates about shot types. I tend to use lead whenever it is a legal option. It is easier on your teeth. (Speaking of meat prep, look for the little shot hole in the meat and account for every pellet you can in the meat... then run a metal detector over it.)
Okay, last one. Back to your ability. Once you learn recoil management, your ability to actually center the shot pattern on the target is the main determining factor in gauge size, shell size, and choke size. Shot size is actually rather easy... look at the picture on the box of shells. A better shooter can use a tighter choke and smaller shot than a poor shooter. Doing this he gets more shot in the bird. He can also decide to shoot a smaller gauge with a tighter choke with the same shot size and still get more shot in the bird.
While it may be cool to go out and hammer away at doves all day with 3 1/2 inch magnums, that evening you will pay for it! Meanwhile the old geezer in your group that shot just as many rounds from a 28 gauge and took just as many doves will be laughing at you. He'll also out shoot you tomorrow because he won't be so sore!
All this info here is written using birds as the example, but remember they are just the example. The same applies to big game such as deer and large birds such as turkey and geese.
One last word of warning... Do NOT shoot slugs through any choke tighter than an Improved Cylinder. Doing so will damage your barrel, your choke, your face, your hand, or all the above. If available, always use a Cylinder Bore choke or barrel with slugs, or if you can afford it, buy a rifled slug barrel.
I hope this helps somebody out in their selections. Feel free to share this around and Happy Hunting!